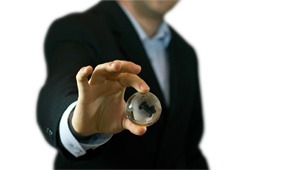 Should I trust the advice of an Estate Agent about which Surveyor to use?
Whilst the Estate Agent selling the property should act in a reasonable and professional manner, in accordance with the Office of Fair Trading (OFT Guidance) see this link http://totallymoving.co.uk/docs/selling-a-property-oft-guidance/ you should remember whom they are working for e.g. the seller!
Ask yourself the question why, i.e. why don't the Estate Agent wish to recommend a particular Surveyor? Could it be that the Surveyor refuses to be bullied (as some Estate Agents may try to do) into not mentioning and/or otherwise watering down their comments to help ensure that a sale proceeds? All Surveyors should be independent and act in their client's best interests and the likelihood of a Surveyor being found to not do so is remote, however that may not stop unscrupulous agents trying to influence a Surveyor and in particular if they provide leads to that Surveyor for instance!
If an Estate Agent actively discourages you from using a particular Surveyor or indeed any other professional adviser, then you should definitely find out from that professional why that may be as you may find that they are more thorough and/or professional than the Estate Agents say they are. Always remember, those selling you the property are likely paid on a commission basis and as such have a vested interested in ensuring that the sale proceeds without interruption and there may well be those working in the Estate Agency field who are unprofessional enough to take advantage of property buyers lack of experience and try all kinds of underhand tactics. If you suspect this may be the case, then you should report them to the Property Ombudsman who can investigate such matters.
The Property Ombudsman can be contacted at http://www.tpos.co.uk/contact.php